Beliebers and "Lord of the Rings" fans were shocked today when the British heartthrob actor threw a punch at the young Canadian pop star. And shortly after their altercation, Bieber tweeted a photo of model Miranda Kerr. But this physical altercation has a long history brewing behind it, which has been carefully detailed below.
1. Early beginnings
Orlando Bloom and Miranda Kerr started dating in 2007, quickly becoming serious and engaged in June 2010. Just later that month, the couple was married. Kerr gave birth to the couple's son named Flynn Christopher Blanchard Copeland Bloom in 2011. But in October 2013, the couple announced their separation.
Bieber too was caught up in a pretty serious relationship with Selena Gomez. The couple started dating in 2010, and were very much publicized my fans and the media. But their relationship came to a close in January 2013.
2. Bieber with Miranda
In 2012, Miranda was reported as having invited Justin Bieber back to her hotel room following the 2012 Victoria's Secret Fashion Show, the same time she was married to Bloom. After that, Bieber and Kerr shared many spicy and flirty text message exchanges. It was long speculated whether Bieber and Kerr actually hooked up, but judging by Bloom's reaction to Bieber, it's increasingly likely.
3. Bloom with Gomez
But if the Kerr and Bieber scenario weren't bizarre enough, Bloom was captured hanging out with Gomez outside the LA Forum following Chelsea Handler's "Uganda Be Kidding Me" show in April 2014.
4. The fight
While at Cipriani restaurant in Ibiza, Bieber and Bloom were seen exchanging harsh words. One account says that Bieber reached his hand out to Bloom who denied it, upsetting Bieber and provoking the punch. The other account states that Bieber made accusations of sleeping with Bloom's wife, instigating a response from Bloom. But after the fight, Bieber quickly posted and deleted photo of Miranda Kerr to Instagram as a taunt to Bloom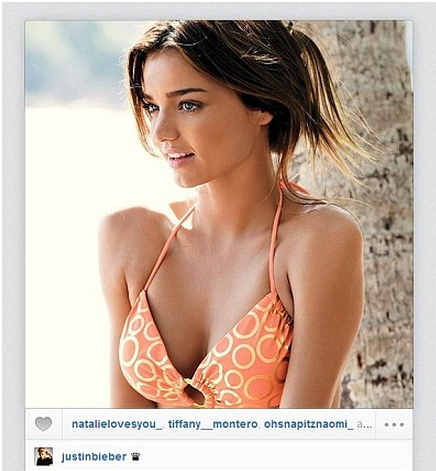 Oh boy. We knew that Bieber has a history of misbehaving. But the singer is living in a fantasy world if he thinks he can take on Legolas.