TANNERSVILLE, Pa. (KABC) --
The accused cop killer Eric Frein confessed to the murder of Pennsylvania State Police Cpl. Bryon Dickson and the wounding of Tpr. Alex Douglass, sources told ABC affiliate WPVI-TV.
Sources also told WPVI-TV that the suspected murder weapon was found in the airplane hangar where he was found. Bomb squads cleared that hangar before it was searched, sources said.
Frein entered no plea Friday morning at a preliminary arraignment in Pike County, Pennsylvania. He faces charges including first-degree murder and attempted murder for an ambush on Sept. 12 at a state police barracks. He is being held without bail.
The Pike County District Attorney intends to seek the death penalty against him. The 31-year-old had no attorney present at the court appearance. A preliminary hearing has been set for Nov. 12.
Frein was captured by federal marshals
Thursday inside an abandoned airport hangar at the old Birchwood Pocono Airpark in Tannersville, Monroe County.
State police said Frein was unarmed at the time of his capture and was in good physical condition. He was apprehended without a struggle, and the scratch that could be seen on his face was there before his capture, authorities said.
He was taken into custody wearing the handcuffs of the trooper he allegedly killed and arrived at the Blooming Grove barracks after a 48-day search.
The dragnet involved hundreds of law enforcement officials fanned out across the Pocono Mountains of northeastern Pennsylvania and cost about $10 million, State Police Lt. Col. George Bivens said.
Amid news of Frein's capture, Barrett Township officials say Halloween trick-or-treating is back on for Friday, after it was originally canceled because of the intense manhunt.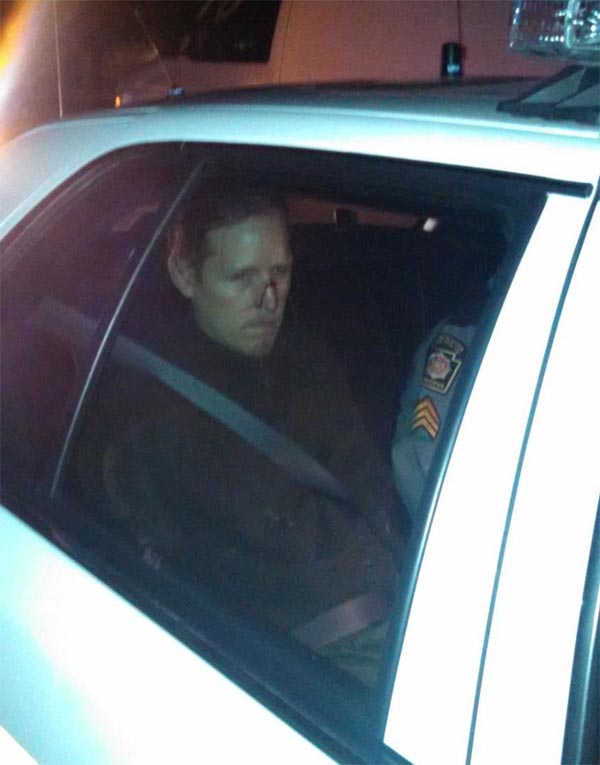 Frein's alleged victim, Cpl. Dickson, was laid to rest on Sept. 18. At his funeral, Dickson was called a devoted husband and father and "impeccable" ex-Marine who took his work seriously but also enjoyed making wooden toys for his young sons and finding humor in everyday situations.
Trooper Douglass was shot in the pelvis and critically injured in the ambush, which took place during a late-night shift change. Douglass remained hospitalized until Oct. 16, when he was discharged to a rehabilitation facility.
Police said they linked Frein to the ambush after a man walking his dog discovered his partly submerged SUV three days later in a swamp a few miles from the shooting scene. Inside, investigators found shell casings matching those found at barracks as well as Frein's driver's license, camouflage face paint, two empty rifle cases and military gear.
Frein belonged to a military re-enactor's group, playing the part of a Serbian solder. He had a small role in a 2007 movie about a concentration camp survivor and helped with props and historical references on a documentary about World War I.
The FBI named him to its 10 most wanted list nearly a week after the deadly ambush.
The Associated Press contributed to this report.