SAN DIEGO, Calif. (KABC) --
SeaWorld announced on Friday that it plans to build new first-of-its-kind killer whale environments that will double the size of the whales' tanks.
The company will also provide $10 million for new research programs to protect killer whales in the wild.
The Blue World Project will start at SeaWorld San Diego, where the whale environment will have 10 million gallons of water. That's nearly double the size of the current facility, according to the company.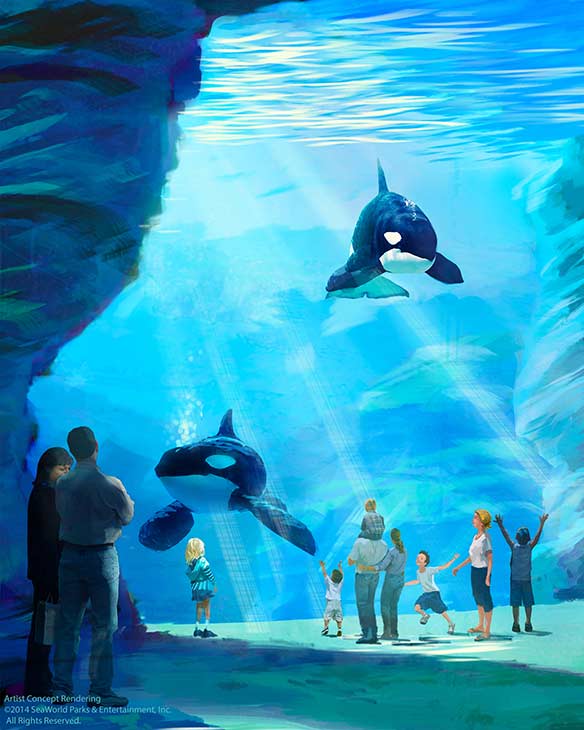 The changes come following criticism of its treatment of killer whales in the 2013 documentary "Blackfish." The film suggested that captivity and SeaWorld's treatment of the whales provoked violent behavior. On Wednesday the company reported disappointing second-quarter financial results because of the backlash.
"For 50 years, SeaWorld has transformed how the world views marine life. The unprecedented access to marine animals that our parks provide has increased our knowledge of the ocean and inspired generations," said SeaWorld President and CEO Jim Atchison in a statement. "Our new killer whale homes and research initiatives have just as bold a vision: to advance global understanding of these animals, to educate, and to inspire conservation efforts to protect killer whales in the wild."
The new environment will be 50 feet deep and 350 feet in length, with a surface area of 1.5 acres. Other features include a "fast water current" that allows the orcas to swim against moving water.
The company's shares, which are trading at their lowest prices since the company listed its stock on public markets last year, rebounded somewhat on the announcement.
San Diego's new whale environment is expected to open to the public in 2018, and the changes will follow in Orlando and San Antonio.
The Associated Press contributed to this report.