LOS ANGELES (KABC) --
A strong high-pressure system is bringing a new heat wave to Southern California this week.
An excessive heat warning is in effect through Thursday, as well as high-surf advisories for the beaches.
Temps start rising on Monday, reaching 92 in Los Angeles and Orange counties and then climbing to 96 by Wednesday.
The valleys and Inland Empire will be hotter, staying above triple digits all week, starting with 102 on Monday and 106 by Wednesday.
Beaches will also be warm, with 2-5 foot surf on Monday and 4-7 foot on Tuesday, with temperatures in the 80s.
Mountains will be warm and breezy, with a high of 83 on Monday.
Deserts will be hot, hitting 104 on Monday and climbing up to 108 by Wednesday. The Palm Springs area could go as high as 120 degrees by Wednesday.
Live radar: abc7.la/LiveMEGADOPPLER
Watches/Warnings: abc7.la/WxWarnings
Download the free Accuweather app for iPhone and Android devices.
Share your weather pictures and video with #ABC7Eyewitness
7-Day Forecasts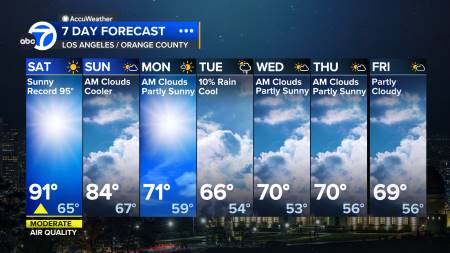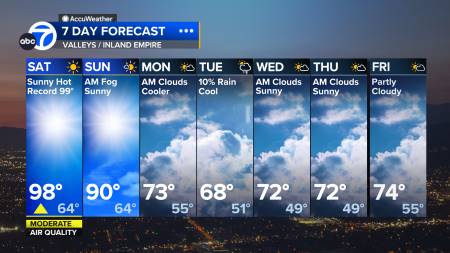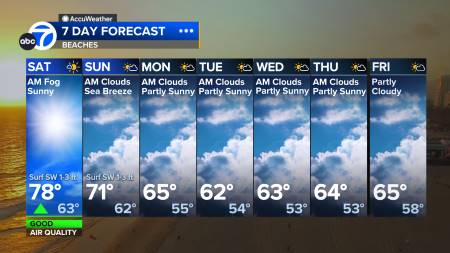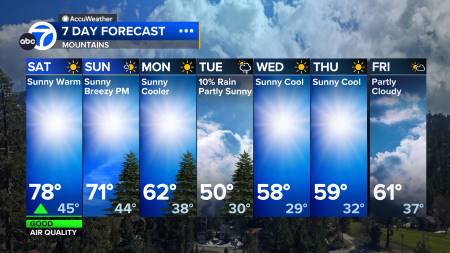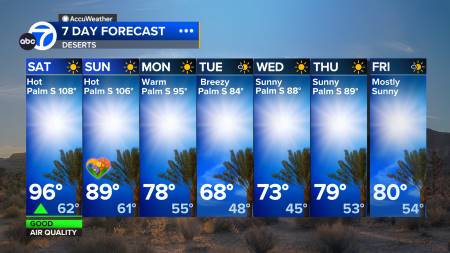 ""