NEW YORK -- The women in the house were reeling over the news that "The Bachelor" Nick had already slept with Liz. To their delight, Liz was sent home. However, some of them felt really misled. It was time for the cocktail party before the rose ceremony, and Nick took that opportunity to talk to all of them about what happened between the two of them. He explained why he sent them home and encouraged the ladies to ask them any questions they might have about what he revealed.
Vanessa was upset and Nick told her that he hadn't spoken to Liz since everything happened and he did his best to set all of the women's minds at ease. Danielle L. was practically like, I understand Nick, you had to get with Liz or the world would have ended, it's totally OK. Corrine could have cared less. Corrine decided she needed to one-up Liz and put on a trench coat with nothing but underwear underneath.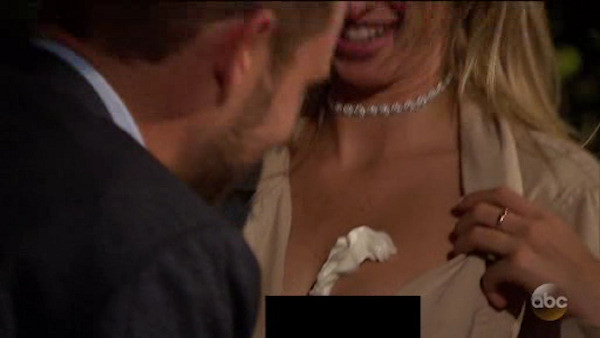 So, was Corrine having a nip slip that they had to put a big black bar over her chest? She ran over and hugged Nick and told him she needed to talk to him. Nick told her she looked pretty sexy. She had him get some whipped cream and they ate it out of each other's mouths and she even squirted it on her chest...which he licked off. The other ladies were horrified. Of course Corrine gave him a preview of what was under the trench coat. Nick said that he is warry of jumping into the sack with anyone, especially after the Liz situation, and that it really wouldn't benefit anyone. It would just create an uncomfortable situation. Thank goodness Jasmine G. put an end to the whipped cream eating fiasco. Corrine walked off and cried because she said after Nick slowed things down she feels stupid.
Then it was time for the rose ceremony and three ladies have roses from the last episode:
1) Danielle M.
2) Christen
3) Corrine
To them we add:
4) Astrid
5) Taylor
6) Whitney
7) Kristina
8) Danielle L.
9) Rachel
10) Vanessa
11) Raven
12) Jaime (nose balls survives another week)
13) Dominique
14) Sarah
15) Alexis (she said move *itches as she walked to get her rose)
16) Brittany
17) Josephine
18) Jasmine (the ball of stress)
Chris Harrison told the ladies the following day that they would have their minds blown if they were chosen for this group date. Danielle L., Christen, Kristina, Whitney, Taylor, Jasmine, and Corrine, 'Everybody!'" Then the Backstreet Boys actually showed up at the house! They all started freaking out! At least they all got to meet them. They told the girls not to wear heels and prepared to leave, they sang a verse of "I Want It That Way," for the ladies. This is the best date in "Bachelor" history!
When they arrived at the rehearsal space, they learned that they would be performing in front of a live crowd. So the ladies had to learn a routine! The guys actually taught them the routine. Jasmine was a standout as she's an NBA dancer, and Danielle L. seemed to get the routine down easily as well. Corrine is a terrible dancer! Bachelor Nation rejoice! She talked about how she isn't a crybaby when the attention isn't on her - cut to a shot of her crying in the women's restroom.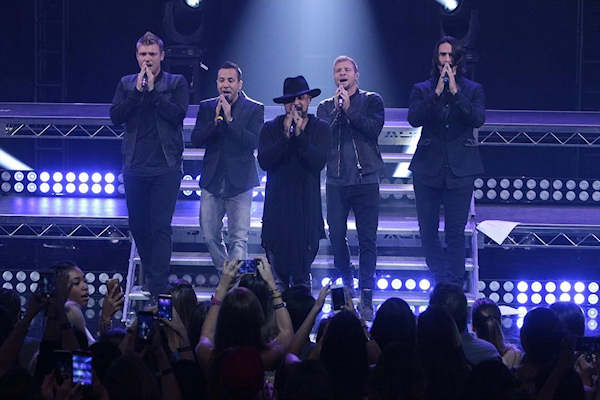 Then before you know it, it was show time! Nick came out and danced with the guys and then the girls joined in. It was very cheesy and Corrine just did the best she could.
Then, Nick got to choose who did the best to get serenaded by BSB on stage! He chose Danielle L.! Corrine was jealous despite doing a terrible job. So they serenaded her while she danced with Nick on stage. Lame. She should have danced with Nick Carter instead ha! Corrine is like, "I'm trying to get engaged here!" Um, so is everybody Corrine!
Later, they all had drinks after the show. Corrine, again, pulled Nick aside first to chat. She said "planned dancing" and Nick said, "you mean choreography," makes her nervous. They talked about how she didn't show up to the rose ceremony and she apologized and told him that she felt silly about the night before. Nick told her not to worry about it and reassured her with a kiss. After that chat she fell asleep again.
Nick continued to talk to other ladies and he seemed to make a big connection with Danielle L. During their chat he pulled her in for a kiss. They seem to get along really well. She could be a frontrunner!
Back at the house, another date card arrived. It read, "Vanessa, You make me feel like I'm floating." The ladies all guessed Vanessa's date could be a hot air balloon ride, but actually it's a zero gravity flight! How amazing!
On the group date, Corrine told the other ladies about her nanny. Raquel keeps her life together and Corrine said that she needs to get Raquel ready for the fact that she'll have kids in the future and will need help. That poor woman. She must be some kind of saint. Jasmine got upset that she thinks Corrine is there for the wrong reasons and got terribly drunk and even fell down. Thankfully, Nick decided to give the group date rose to Danielle L. and that was the end of this date.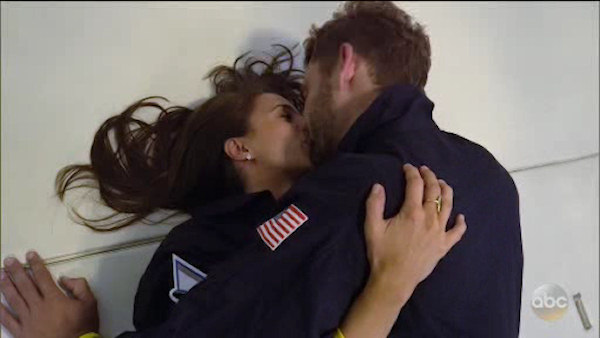 Vanessa meets Nick at the plane and they suit up for their big ride. Nick was a bit nervous but Vanessa was not! Once they reached the proper height, they lied on the ground and felt the full weight of the flight as it ascended. Then the flight dove down and they floated up into the air! It looked really awesome! They even did some zero gravity kissing! It really seemed like an unforgettable experience. But then, it really turned into one for Vanessa. She got terribly sick! She was so nauseous! Don't you feel so bad for her? Props to Nick for staying by her side, but he practically put his face in her vomit bag! Aw, maybe they are meant to be, only a husband or a best girlfriend could be so sweet. Side note: thank goodness someone gave her gum! I was wondering how on earth he could kiss her again after she threw up, but he did!
The group date card arrived at the house and it read: "Rachel, Alexis, Astrid, Jaime, Sarah, Brittany, and Dominique, "I'm done playing the field."
It was the evening part of the one-on-one date. Vanessa and Nick had a great rooftop dinner (I'm surprised she could eat or drink after throwing up!) and they talked about his past. She said she admired his connection to his mother and his family. She said that she is very close to her family and her grandfather died just three weeks prior to the show starting. Vanessa eerily talked about how they all had a red rose in the limo to his funeral and she said she felt like that meant her grandfather would be with her during this process. I love that Vanessa basically called him a professional "Bachelor" contestant and let him explain why he did this time and time again. He revealed to her that his past experiences have left him wondering if he can trust his feelings and emotions when it comes to picking someone. He has seemed very real on this date! I like how he is with Vanessa. He even seemed to cry tears of joy when he talked about their time so far together! He offered her the rose and she admitted she forgot about the rose! That's actually a good sign. She said, "Of course!" and they kissed the night away.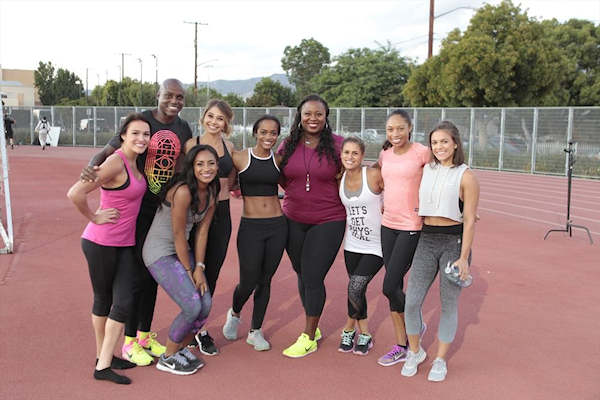 The following day, it was time for a track and field group date. Joining them was Carl Lewis, Michelle Carter and Allyson Felix. They have all won gold medals! Astrid needed to wear a more supportive bra as she bounced around during the warm ups on the field. They all did various events like long jump, high jump, and javelin throwing into a big heart display.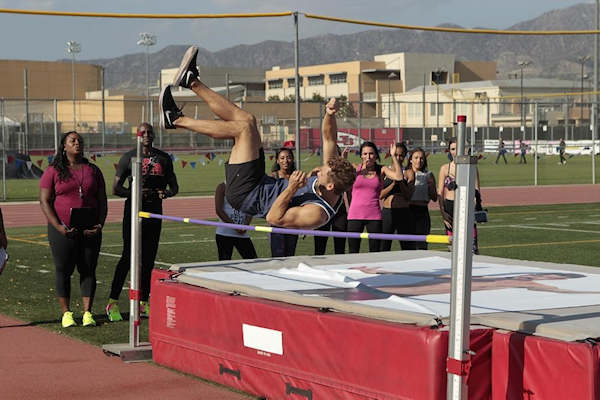 The athletes decided that Rachel, Alexis, and Astrid would be moving on to the next round with Nick. They had to do a dash! They had to run and grab a giant fake engagement ring and dive into a waiting hot tub right at the track!
Off they went and Rachel was the fastest but she dropped the ring!!! She dove for it but stepped on it and crushed it as Astrid reached for it! Ouch! Astrid won by default. Bummer, I thought Rachel should have been granted the one-on-one hot tub time. As Astrid kissed Nick in the hot tub, Dominique cried on the sidelines.
That evening, the group and Nick headed to an antique's store to have a fancy cocktail party. During his alone time with Astrid, he gave her a new fake engagement ring bracelet. Dominique went into the bathroom with Rachel to cry. She tried to give her a pep talk and was really there for her which was sweet. When Dominique finally did get her chance to talk to Nick she was very accusatory about him not reassuring her enough. Ugh. I honestly hope that he just sends her home. She's too needy. Just as that thought popped in my head, he did! He told her that it was time for her to leave, they hugged for an oddly long time and he put her in a limo and sent her away. There was still a group date rose and Nick chose to give it to Rachel!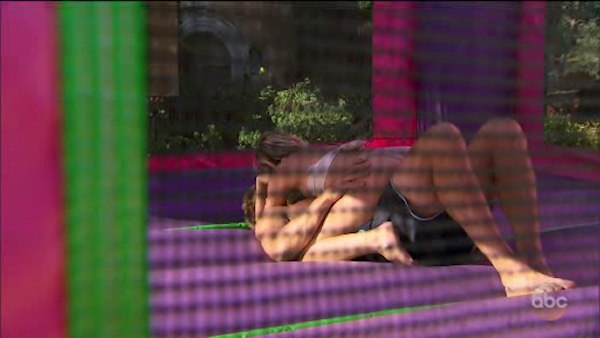 The next day, Chris Harrison came by to check on the ladies and he told them that Nick cancelled the cocktail party. However, they would have a pool party! So they all stripped down for some poolside fun. Jasmine was kissing him all over and he kept telling her it was awkward. Meantime, Corrine applied makeup and set up a bounce house (or rather the producers did?) So Nick joined her bouncing around and then the next thing you knew, she was on top of them and they were hardcore making out. The other ladies could see everything! Needless to say, they were not happy, especially Vanessa. After that, Corrine retired to her room for yet another nap...like a toddler. Raven then pulled Nick aside to warn him about Corrine. She told him about the nanny and so did Jasmine and Taylor. Vanessa said that she was going to talk to him and she did. She told him that she was questioning his intentions. Vanessa said that she saw 2 seconds too much of his time with Corrine and she told him that she's not judging Corrine, she's judging him. She wanted to know if he wants a wife or someone to just have fun with.