BABYLON, Long Island --
A small helicopter carrying the son of WWE chairman and CEO Vince McMahon made a crash landing in the waters off Gilgo Beach Wednesday morning.
The FAA says the Robinson R-44 helicopter with two aboard landed on its pontoon skids just before 10:30 a.m. Neither Shane McMahon or pilot Mario Regtien was injured.
Here's a photo of the two of them together after the incident: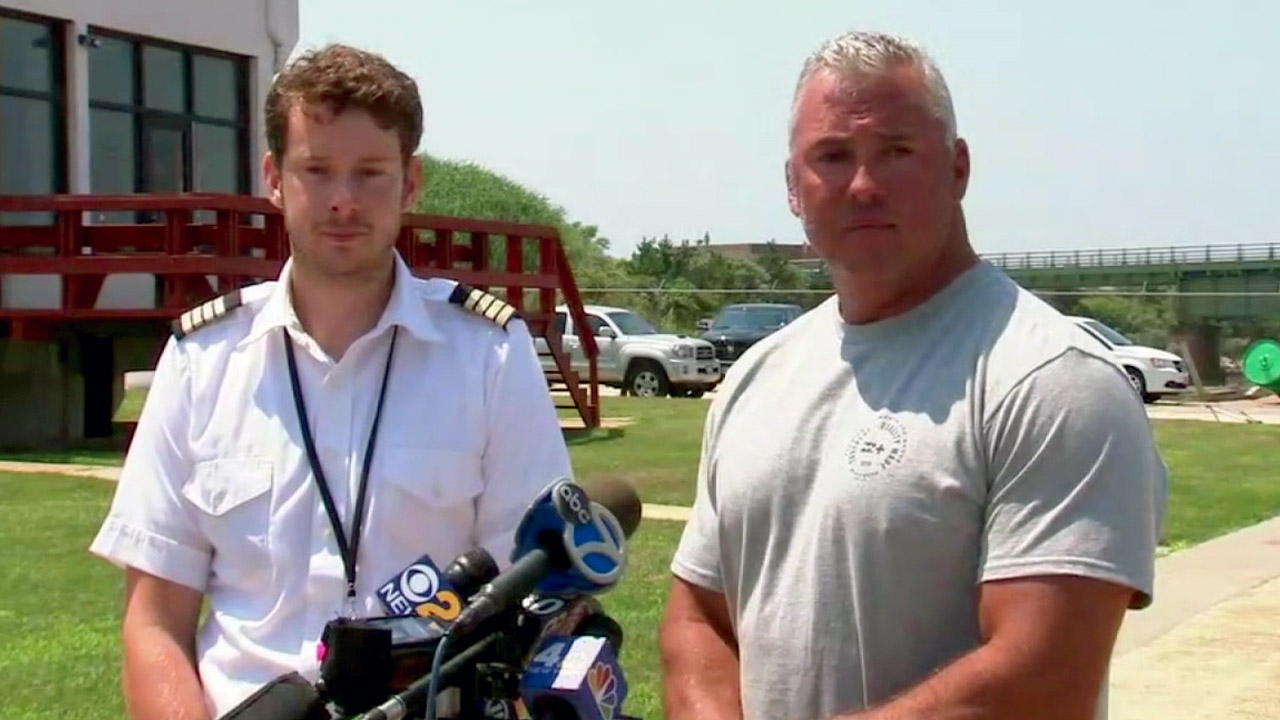 "We heard some noise, and it became very clear to me that I could no longer continue flying the helicopter," Regtien said. "So I decided to do an auto-rotation landing in the water."
Photos: Scene of helicopter crash landing
Emergency responders, including two lifeguards, picked up the two and ferried them safely to shore. Both were wearing life jackets. NYPD Aviation and SCUBA units also responded and assisted in the rescue.
"It's very unsettling when all the sudden you have something happen," McMahon said. "You hear a bang, and then you start saying, 'We're going to do an emergency landing in the water.' So yes, it was very unnerving. But again, Mario was super calm, which made me super calm. And we landed perfectly."
McMahon had chartered the flight from New York City to Westhampton to visit his family, and they had taken off from the West Side Heliport. The trouble began just south of Republic Airport, while they were cruising at 1,400 feet.
"It went as good as it could go," Regtien said. "Landed softly, and I checked to see if he was OK. Everyone was fine, and we waited for the Coast Guard at that point. I left my shoes in the helicopter in case we had to swim."
McMahon thanked all those involved.
"First of all, I'd like to thank the pilot, Mario," he said. "He did an amazing job. He was cool under pressure. I couldn't have been in better hands. He explained everything as it was happening. I'd also like to thank the Coast Guard, who was there instantaneously, Suffolk County Marine, a bureau that was there, the lifeguards that came to the beach. Just thankful that everything worked out well and that we're here."
I'd like to thank the man upstairs for looking out this morning & thanks to pilot Mario, Suffolk County Marine Bureau & Babylon Coast Guard.

— Shane McMahon (@shanemcmahon) July 19, 2017
The helicopter is registered to "Awesome Flight LLC" of White Plains.