FAYETTEVILLE, N.C. -- Cumberland County Sheriff's Detectives need the public's help finding a man who allegedly left eight dogs without food or water in his home for at least a month.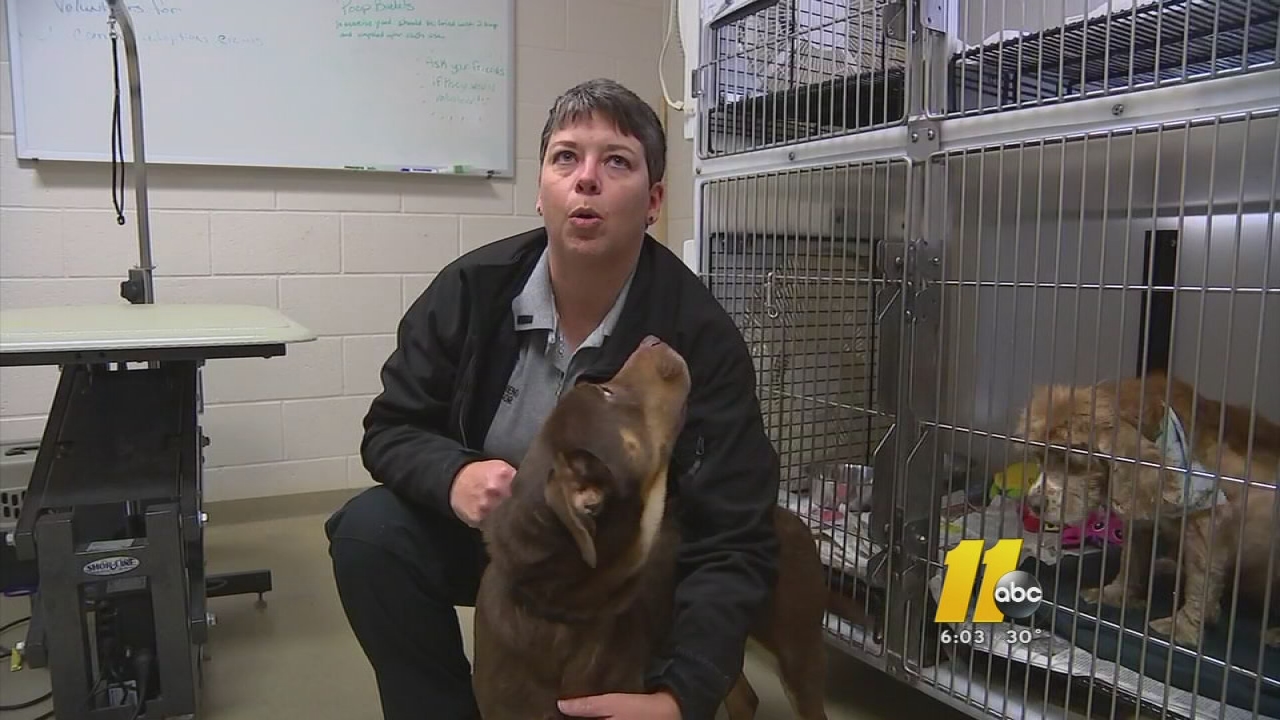 Detectives say six of the dogs were found dead in the sunroom of the home after trying to survive on wood that they chewed from porch furniture. Some tried to eat the carcasses of the ones that died before them. An autopsy report confirmed the animals were dehydrated and starved to death.
The two dogs that survived, an older cocker spaniel named Shoshuana, and a pit mix puppy, were located in another part of the home, according to officials. They survived by eating trash.
"It was horrendous. The conditions were horrendous," said Lt. Elaine Smith, one of the Cumberland County Animal Services who responded to the scene.
She described the home as similar to one you'd see on a show about hoarders.
"There was a lot of feces in the room from the dogs, in the house from the dogs," Smith said. "It was not even something we were comfortable walking through as far as safety and health concerns."
Smith said neighbors contacted authorities about the dogs on January 27. The Sheriff's Office said Richard Walter, 51, lived there with his partner, the homeowner who was ill in the hospital. Authorities said Walter went to care for his partner in Durham, but never came back for the animals. Walter is now facing eight counts of animal cruelty.
The surviving dogs barked excitedly when animal control rescued them two weeks ago, said Smith. They are being nursed back to health. Shoshauna came into Animal Control with several pounds of matted hair, and was a bit chunky. She's now groomed and ready to go home with a rescue group. There were no records on file to identify the pit mix puppy, but she will likely be adopted by a sheriff's deputy, said Smith. When she arrived to Animal Services, her ribs were visible. She's now gained proper weight.
"These dogs were definitely in a bad situation, but they're in a good situation now," said Smith. "Between the publicity and the staff knowing their situation, these dogs are guaranteed a good outcome."
Smith said her department did reach Walter by phone, but he was uncooperative in discussing how to handle the surviving dogs. His partner's son, who lives out of state, gave Cumberland County permission to put the surviving dogs up for adoption. The dogs legally belong to his ill father.
Smith said animal control had responded to the home in the past, but found no violation in county ordinances. The couple was allowed to have more than three animals because they lived on more than a half-acre of land.
The Cumberland County Sheriff's Office is requesting public help in locating Walter.
He is described as a white male, around six feet tall and weighs between 180 and 200 pounds. Walter has brown hair that is graying and blue eyes. He was last seen at Duke Medical Center and has not returned home.
Anyone who has information concerning this case or knows the whereabouts of Walter is urged to contact the Cumberland County Sheriff's Office at (910) 323-1500 or dial 911 for immediate assistance.