MARIN COUNTY, Calif. (KABC) --
Sheriff's officials revealed on Tuesday that Robin Williams was found by his personal assistant and confirmed that the actor had been seeking treatment for depression.
The Marin County Sheriff's Office received a 911 report that a male adult was unconscious and not breathing at a house in unincorporated Tiburon, California, at 11:55 a.m. Monday. Emergency personnel arrived and pronounced Williams dead at 12:02 p.m.
During a news conference in San Rafael, authorities said Williams was last seen alive by his wife around 10:30 p.m. Sunday. She went to bed and left for work the next morning at about 10:30 a.m. thinking the 63-year-old was still asleep in a separate bedroom.
A personal assistant became concerned at about 11:45 a.m. when Williams did not respond to knocks on the bedroom door.
"The personal assistant was able to gain access to Mr. Williams' bedroom and entered the bedroom to find Mr. Williams clothed in a seated position, unresponsive, with a belt secured around his neck," said Lt. Keith Boyd, chief deputy coroner for the Marin County Sheriff's Office.
Boyd would not say whether a note was left. Williams also had superficial cuts on his left wrist, and a pocket knife with what appeared to be blood was found nearby.
Toxicology tests will be performed to determine if Williams had any chemical substances in his body at the time of his death. Those tests are expected to take two to six weeks.
A final ruling on the cause of the death will be made once toxicology reports and interviews with witnesses are complete, Boyd said.
On Monday night, comedians gathered at the Laugh Factory, where Williams had performed since 1982. A makeshift memorial continues to grow at his star on the Hollywood Walk of Fame.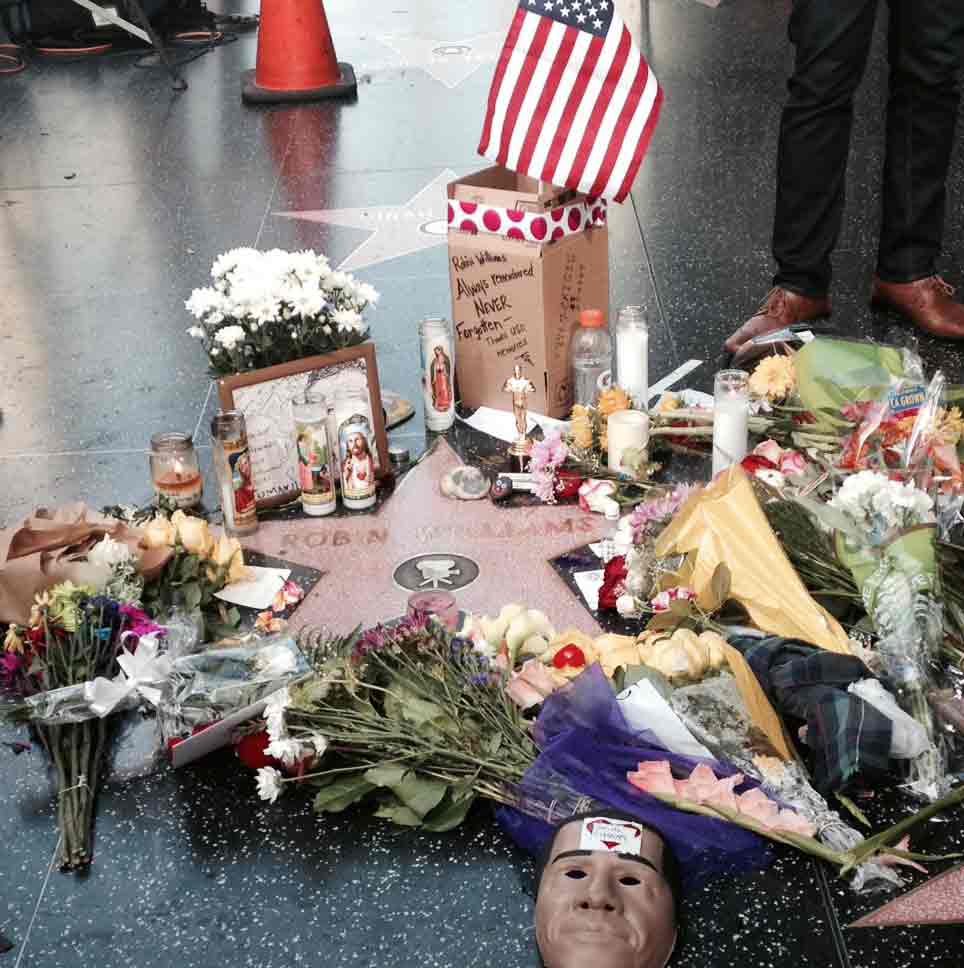 The Oscar-winning actor had struggled for years with substance abuse and depression. In 2011, he told "Nightline" that he quit alcohol and cocaine after having a child.
"I didn't have any rehabs or groups. I just kind of took my mother's advice of vitamins and exercise. You realize, OK, now you have this responsibility, and (I) dealt with it," he said.
Last month, Williams announced he was returning to a 12-step treatment program he said he needed after 18 months of nonstop work.
PHOTOS: Robin Williams through the years
Williams won an Academy Award for his intense and dramatic role as a teacher in the 1997 film "Good Will Hunting" and won three Golden Globes for "Good Morning, Vietnam," ''Mrs. Doubtfire" and "The Fisher King." He had recently wrapped production in the upcoming movie "Night at the Museum: Secret of the Tomb."
He is survived by his wife, graphic designer Susan Schneider, and three children from previous marriages.
The Associated Press contributed to this report.