LOS ANGELES (KABC) --
Sunday will feel like mid-summer in Southern California as a heat wave rolls in and parks itself over the region for several days.
Temperatures will hit the triple digits by Monday and for Tuesday's World Series, setting records for the date and triggering red-flag warnings.
A red flag warning and an excessive heat warning are in effect for most of the Southland until Tuesday.
Los Angeles and Orange counties will see hot, dry conditions on Sunday, with a high of 96. The high will climb over 100 on Monday and Tuesday.
Valleys and the Inland Empire will hit 98 on Sunday, with hot canyon breezes up to 40 mph and climbing to 102 degrees on Monday.
Beaches will be warm as well, reaching 86 on Sunday and 92 Monday.
Mountains will see a high of 66, with 30 mph winds in the passes.
The high desert will reach 83 on Sunday, with 15-25 mph breezes.
Live radar: abc7.la/LiveMEGADOPPLER
Watches/Warnings: abc7.la/WxWarnings
Share your weather pictures and video with #ABC7Eyewitness
7-Day Forecasts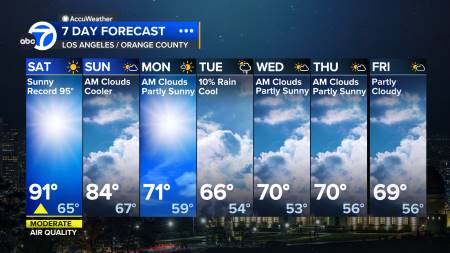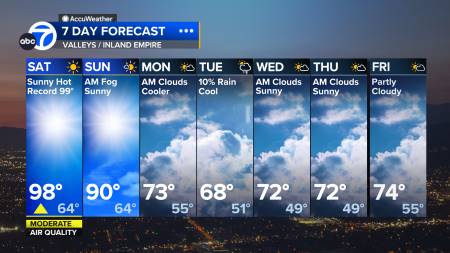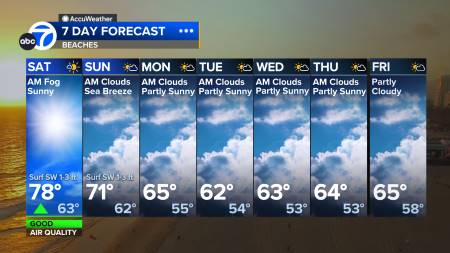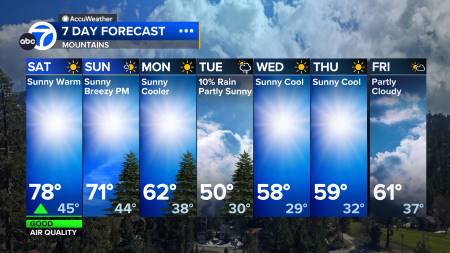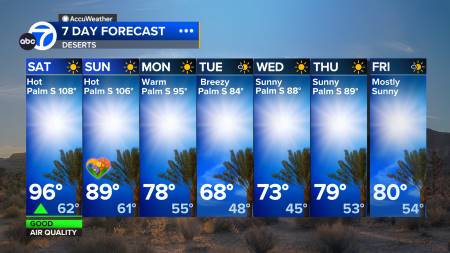 "