The third - and most intense - of this week's storms is making its way into Southern California on Sunday and is set to bring up to six inches of rain in some areas, along with strong wind gusts and snow in the mountains.
Flash flood watches are in place for wide swaths of the region - not only recent burn areas but also many low-lying communities.
Gusts of up to 60-80 mph are forecasted in the Antelope Valley, as well as the mountain areas of Los Angeles and Ventura counties, prompting the National Weather Service to issued a high wind warning.
The immense storm has brought light-to-moderate rain to L.A. County early Sunday. Precipitation is expected to become heavier in the late-morning and afternoon hours as the weather system continues moving east into the Inland Empire.
With an inch of rainfall per hour at the storm's peak, the heightened possibility of mud and debris flows remains a concern in recent burn areas such as Duarte, Santa Clarita and Silverado Canyon.
The rain is expected to continue Sunday night, with a few showers still lingering on Monday and possibly Tuesday.
About 2-4 inches of rain are expected in most areas of Los Angeles and Orange counties, which will see a high temperature on Sunday of 60 degrees.
The rainfall will be heavier in the valleys and Inland Empire, where some areas could see 4-6 inches along with expected flooding and a high temperature of 58 degrees.
Beaches will also see heavy rain, with 6-10 foot surf on Sunday and a high temperature of 60 degrees.
The mountains will see heavy rain, turning to snow at around 8,000 feet at first, then dropping to the 5,000-foot level later Sunday night. Mountain temperatures will reach a high of only 35 degrees Sunday, dropping to 24 overnight.
Deserts should see 1-2 inches of rain, with wind gusts up to 60 mph and a high temperature of 50 degrees.
Live radar: abc7.la/LiveMEGADOPPLER
Watches/Warnings: abc7.la/WxWarnings
Share your weather pictures and video with #ABC7Eyewitness
7-Day Forecasts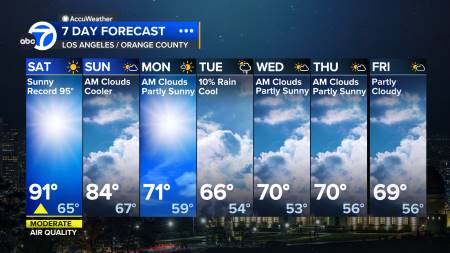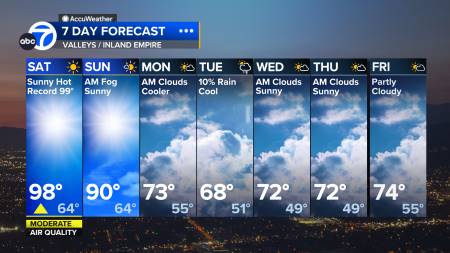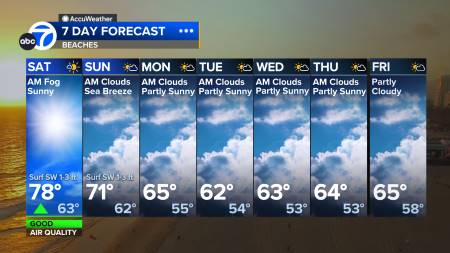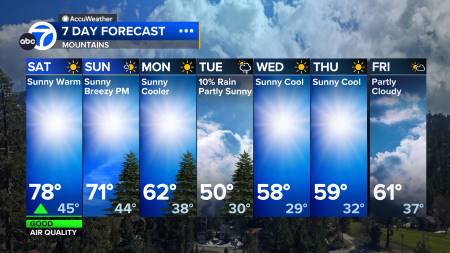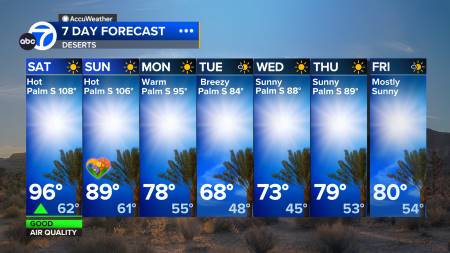 "