LOS ANGELES (KABC) --
An area of high-pressure is bringing back the hot dry Santa Ana winds, with triple-digit temperatures expected over the weekend and through Tuesday's start of the World Series at Dodger Stadium.
Saturday will bring one more day of comfortable weather for Los Angeles and Orange counties, with a high of 83, before the heat wave begins. Sunday, Monday and Tuesday will all see temps over 100, with red flag warnings and records for the dates expected.
The valleys and Inland Empire will see a high of 85 on Saturday, rising to 98 by Sunday and then hitting 104 by Tuesday.
Beaches will see 3-6 foot surf on Saturday, with a high of 75, climbing to the 90s by Sunday.
Mountain communities will be colder and windy, seeing a high of just 57 on Saturday, dropping to 29 overnight, and rising only to 65 by Sunday.
Deserts will see a high of 72 on Saturday and 82 on Sunday.
Live radar: abc7.la/LiveMEGADOPPLER
Watches/Warnings: abc7.la/WxWarnings
Share your weather pictures and video with #ABC7Eyewitness
7-Day Forecasts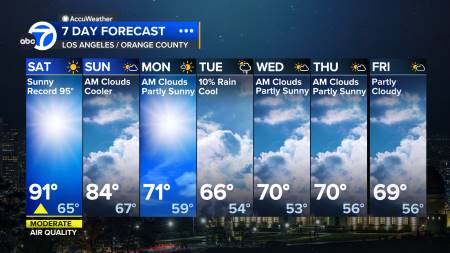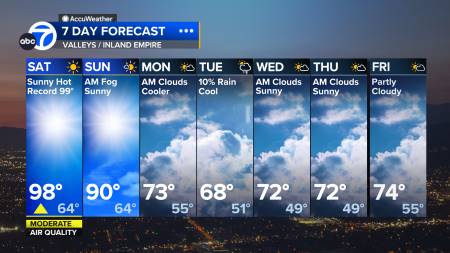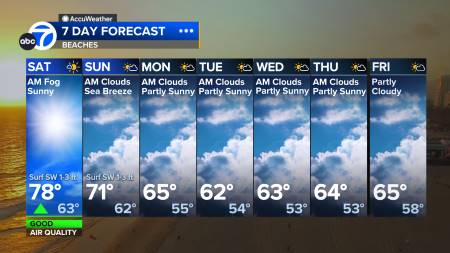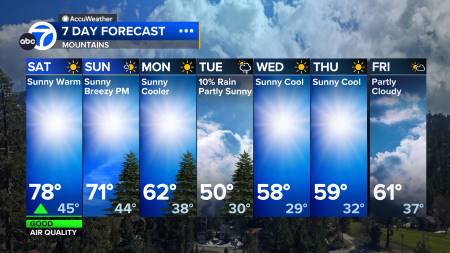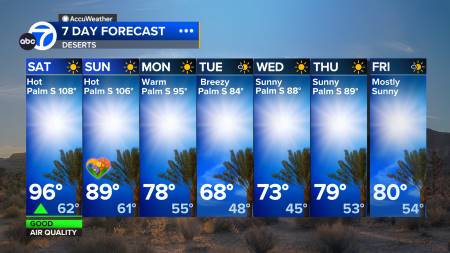 "