LOS ANGELES (KABC) --
Monday is the calm before the storm, which will bring significant rain to Southern California this week.
Monday will see pleasant temps and clear skies, but by Tuesday morning, the Santa Barbara County area could see a few showers. The rain will get heavier by Tuesday afternoon as it moves into Ventura County and parts of Los Angeles.
By Wednesday, the rain could be quite heavy in some areas. Nearly 2 inches or rain may hit Ojai, with about half an inch in Burbank and downtown Los Angeles. Even more will fall by Thursday.
Here are possible rainfall totals by the end of the system Friday night: 4.9 inches in Ojai; 1.71 inches in Los Angeles; 2.23 inches in Burbank and 1.27 inches in Long Beach.
The high temperature will be 68 on Los Angeles and Orange counties on Monday, then drop to the mid-60s all week as the rain falls.
The valleys and Inland Empire will be sunny with a high of 71 on Monday, before the rain begins by Tuesday evening.
Beaches will see some clouds Monday, with 2-4 foot surf and a high of 66.
Mountains will be sunny and cool on Monday, with a high of just 48. When the rain falls Tuesday, the high temperature will rise slightly to 51.
Deserts will see a high of 64 on Monday, with a 20 percent chance of late rain on Tuesday.
Live radar: abc7.la/LiveMEGADOPPLER
Watches/Warnings: abc7.la/WxWarnings
Share your weather pictures and video with #ABC7Eyewitness
7-Day Forecasts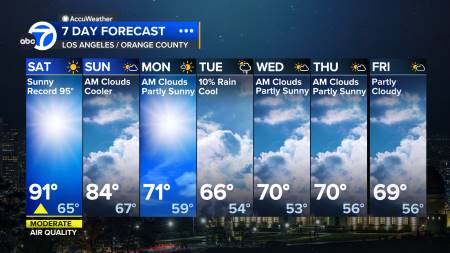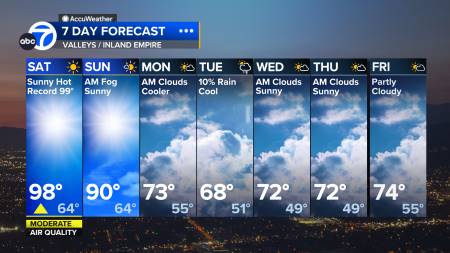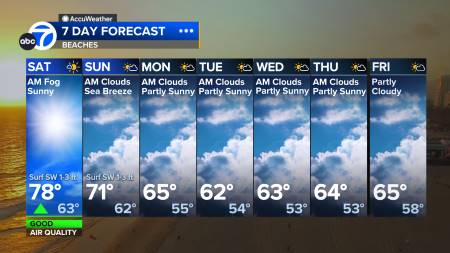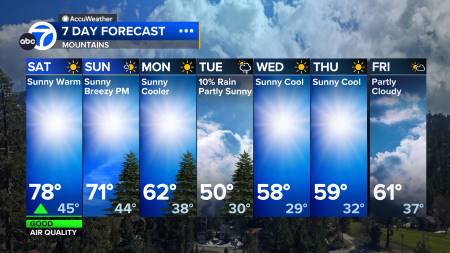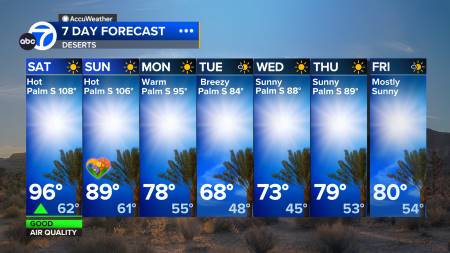 "