Most areas of Southern California are clearing up on Tuesday, and pleasant, dry conditions are expected last through the weekend.
The Los Angeles County Interim Health Officer issued a cold weather alert through Friday due to the National Weather Service's forecast for low temperatures. The areas include Antelope Valley, Los Angeles County Mountain areas, Santa Clarita Valley and Pomona.
Later in the week, an area of high pressure will trek over the Southland, resulting in warmer temperatures and the return of offshore winds.
L.A. and Orange counties, as well as the valleys and Inland Empire, have a 20 percent chance of rain along with high temperatures in the upper 50s. Low temperatures will drop to 43 degrees.
Beaches might also experience rain into the early afternoon, and western swells could create 3 to 6-foot breakers. A surf advisory is in effect until 9 a.m. Wednesday, according to the National Weather Service.
The mountains will continue to get snow and showers on Tuesday, as well as high temperatures in the mid-to-upper 20s. Lows will plummet to 10 degrees.
Deserts residents will experience a high of 47 degrees and a low temperature of 31 degrees amid good air quality.
Live radar: abc7.la/LiveMEGADOPPLER
Watches/Warnings: abc7.la/WxWarnings
Share your weather pictures and video with #ABC7Eyewitness
7-Day Forecasts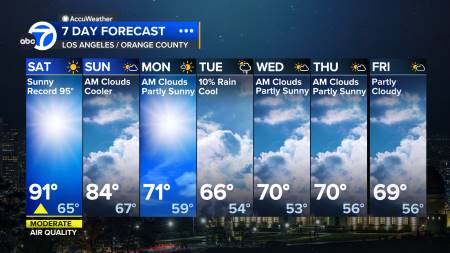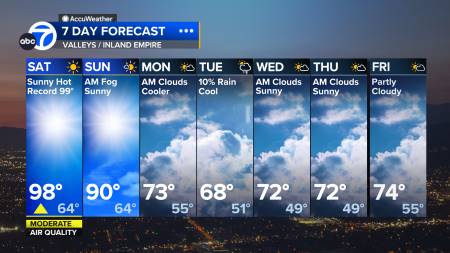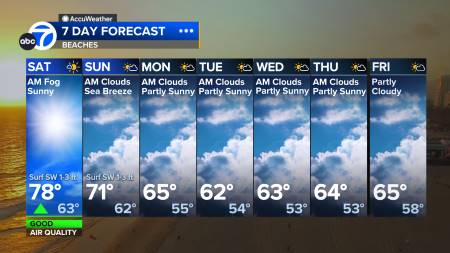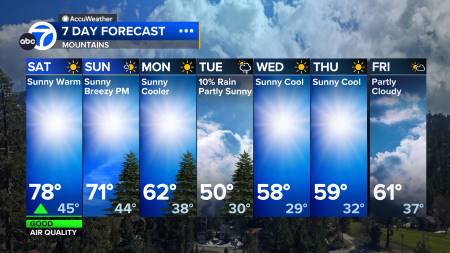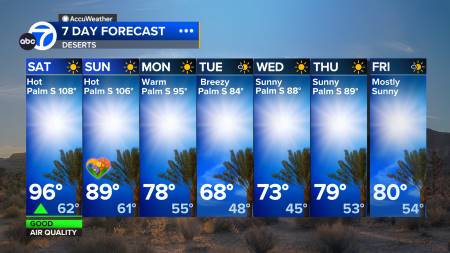 "