The second of three storms is bringing steady rainfall to the Southland and will continue to soak the area into Friday afternoon.
By late afternoon there may be pockets of rain, but the clouds should clear up by nightfall.
Saturday is expected to be mostly clear, but a third storm is expected to drench SoCal again Sunday and Monday, bringing 2-3 inches of rain and possible flooding in the burn areas.
Los Angeles and Orange counties should expect 1-2 inches of rain Friday, with a high temperature of 61 degrees.
The valleys and Inland Empire will see heavier rainfall, with up to 2 1/2 inches. There will be a high temperature of 57 degrees.
A flash flood warning was issued for parts of San Bernardino County until 5 p.m.
A winter storm warning has been issued for the Los Angeles and Ventura county mountain areas. The warning expires at 6:30 a.m. Saturday.
Beaches will also see rain, with a surf creating 4-7 foot breakers and a high temperature of 60 degrees.
Ocean and bay water advisories have been issued for the possibility of elevated bacteria in the water connected to storm and urban runoff.
Mountains could see about 5-10 inches of snowfall at the 5,000-foot elevation, with a high temperature of only 32 degrees. More snow as well as rain is expected through the weekend.
By the time the series of storms finishes, the mountains could see a total of 2 feet or more of snow at higher elevations.
Anyone traveling to the mountains should make sure they have chains on their vehicles.
Deserts will see rain and wind with a high temperature of 49 degrees.
Live radar: abc7.la/LiveMEGADOPPLER
Watches/Warnings: abc7.la/WxWarnings
Share your weather pictures and video with #ABC7Eyewitness
7-Day Forecasts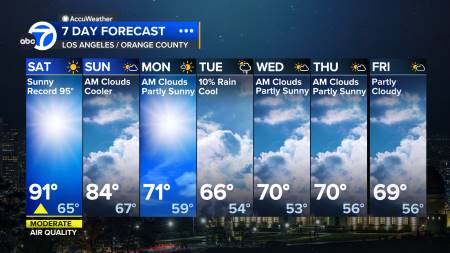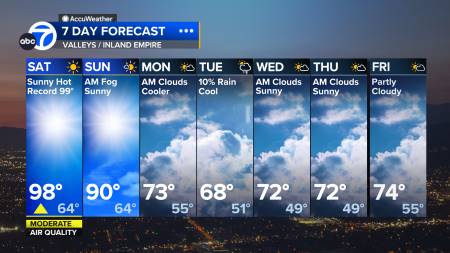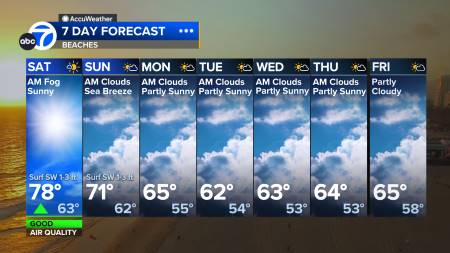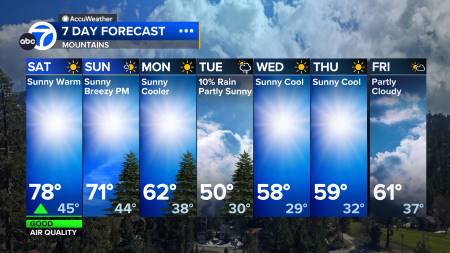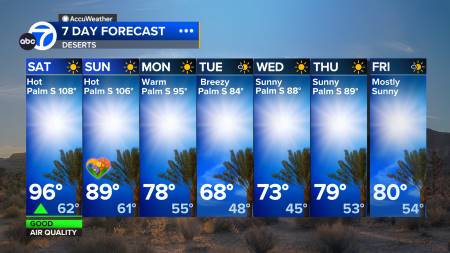 "