An intense winter storm continues to move through Southern California, with heavy rain expected Monday morning as the entire region remains under a flash flood watch until 10 p.m.
A winter storm warning is scheduled to remain in effect until 6 p.m. for the mountains of Ventura and Los Angeles counties, with snow levels set to drop to 4,000 feet. Gusts of up to 60-80 mph are forecasted those areas and the Antelope Valley, prompting the National Weather Service to issue a high wind warning until 6 a.m.
A flood warning has been issued for Orange, Riverside and San Bernardino counties until 11:30 p.m., according to the weather service.
Los Angeles and Orange counties, as well as the valleys and Inland Empire, will see chilly rain conditions with highs in the mid to upper 50s.
Beaches will be cold and rainy with highs in the upper 50s. Swells from the west could create 5 to 10-foot breakers.
The mountains will see up to 2 feet of snowfall above 7,000 feet. Highs will be in the upper 20s.
Deserts can expect cool showers with highs in the upper 40s.
The rain will lose strength by Monday afternoon and showers will linger Tuesday morning. Cool temperatures will be in the forecast until the weekend, when conditions are expected to warm up.
Live radar: abc7.la/LiveMEGADOPPLER
Watches/Warnings: abc7.la/WxWarnings
Share your weather pictures and video with #ABC7Eyewitness
7-Day Forecasts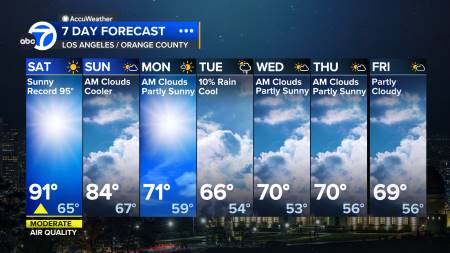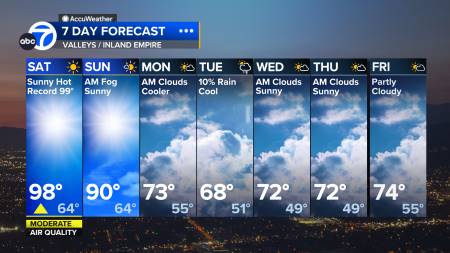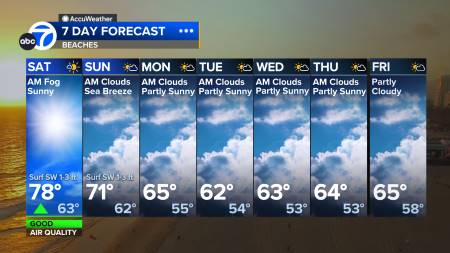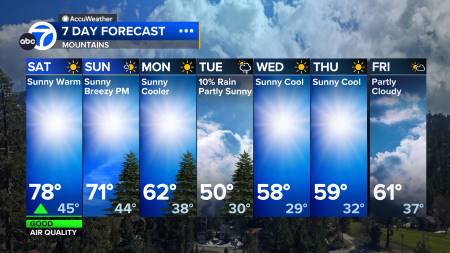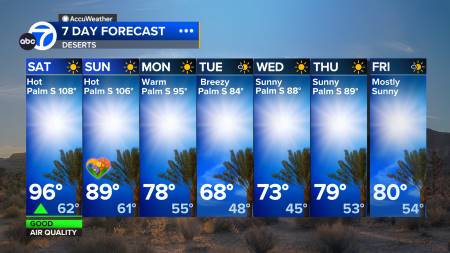 "