LOS ANGELES (KABC) --
There will be patchy skies and slight chances for rain in parts of the Southland on Thursday. Highs will be humid and in the 80s and 90s.
Los Angeles and Orange counties may see some partly sunny skies in the afternoon as conditions remain muggy. Temps will be in the upper 80s.
The valleys and Inland Empire will be hot with highs in the mid-90s amid slight cloud cover. There is a 20 percent chance of rain in parts of the Inland Empire.
Warm conditions will be in store for beach communities with highs in the mid-70s. Morning clouds will be around and then part to sunny skies. Swells from the west may create 2-5 foot surf.
Mountains will be partly sunny with a 30 percent chance of thunderstorms. Temperatures will hover in the low 80s.
Desert areas will be hot with temperatures in the upper 90s amid partly sunny skies. There is a slight chance for thunderstorms.
Live radar: abc7.la/LiveMEGADOPPLER

Watches/Warnings: abc7.la/WxWarnings
Download the free Accuweather app for iPhone and Android devices.
Share your weather pictures and video with #ABC7Eyewitness
7-Day Forecasts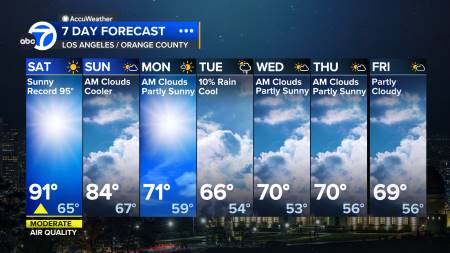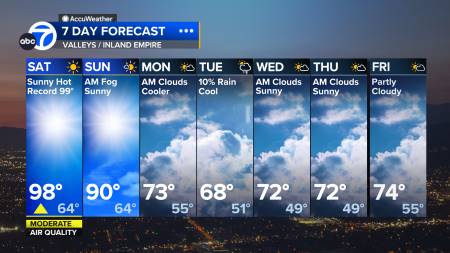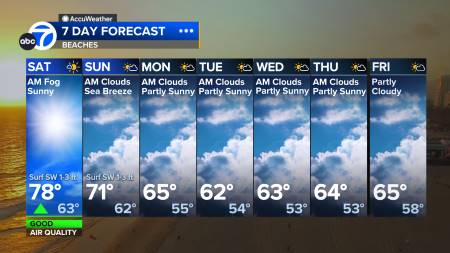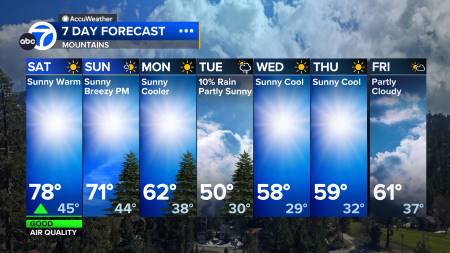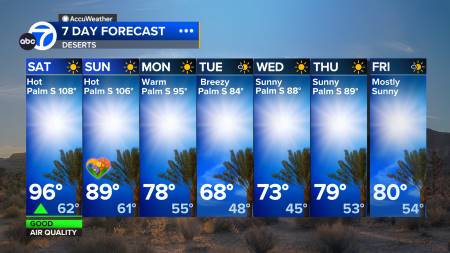 ""