Southern Californians can expect mostly sunny skies and cool temperatures Saturday before the week's third major storm inundates the region on the following day.
Subtropical moisture effects will result in several inches of torrential rain Sunday amid strong winds and warmer conditions.
After a winter storm warning expires at 6 a.m. Saturday in Los Angeles and Ventura counties, sunshine will give way to incoming clouds.
Los Angeles and Orange counties will experience high temperatures of 62 degrees and a low of 47 degrees.
Look for a high temperature of 60 degrees and low of 44 degrees in the valleys and Inland Empire.
Beaches will see waves of 5 to 8 feet, a high temperature of 62 degrees and a low of 47 degrees.
Rain is on tap for the mountain areas, where snow levels will drop to 6,000 feet amid 3 to 6 inches of snowfall. High temperatures will reach 32 degrees before plummeting to a low of 22 degrees.
By the time the series of storms finishes, the mountains could see a total of 2 feet or more of snow at higher elevations. Anyone traveling to the mountains should make sure they have chains for their vehicles.
Deserts should expect windy conditions with a high temperature of 49 degrees and a low of 41 degrees.
Live radar: abc7.la/LiveMEGADOPPLER
Watches/Warnings: abc7.la/WxWarnings
Share your weather pictures and video with #ABC7Eyewitness
7-Day Forecasts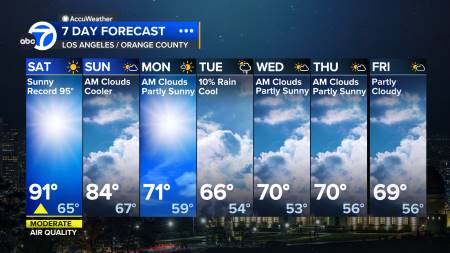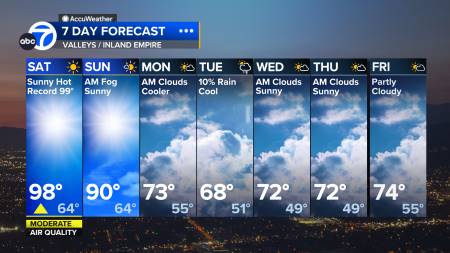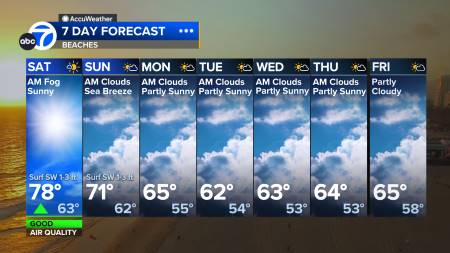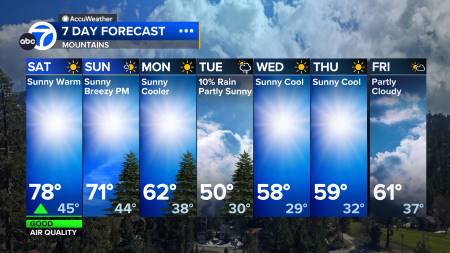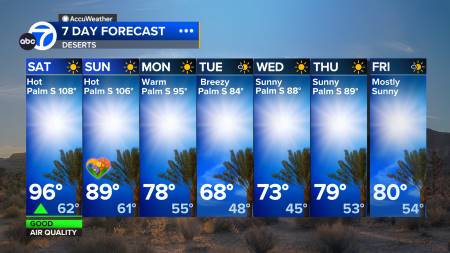 "