FAYETTEVILLE, N.C. -- Authorities in North Carolina on Sunday were hunting for a murder suspect who took to social media while on the run from police.
Anthony Curtis Macneill, 32, posted on his Facebook page that he had "just killed someone," Sunday morning. Police have been searching for Macneill since they learned he allegedly shot and killed his child's grandfather.

Deputies received a call about a domestic situation Sunday morning in the 6600 block of Wake Forest Road in the College Downs Subdivision in northern Fayetteville.
The caller told authorities someone had been shot. When deputies arrived, they learned Macneill had allegedly killed Eugene Racine.
Macneill is the father of Racine's grandchild, according to the Cumberland County Sheriff's Office.
Macneill posted on his Facebook page multiple times while police searched. He told his followers he was leaving North Carolina, and threatened suicide.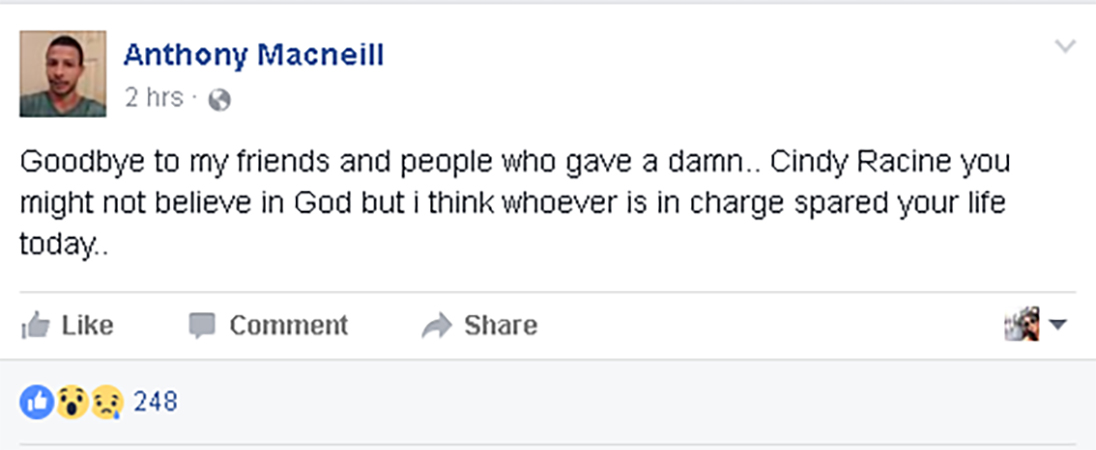 As of 2:50 p.m. local time, deputies were still actively searching for Macneill, whose address is listed in the 6800 block of Green Creek Drive in Fayetteville. According to a WTVD-TV crew on the scene, military police were aiding in the investigation.
Macneill is considered armed and dangerous.
Anyone with information about Macneill's whereabouts is asked to call the Cumberland County Sheriff's Office at (910) 323-1500 or Crime Stoppers at (910) 483-8477.