THE BRONX, NEW YORK CITY -- A 19-year-old is facing murder charges in the brutal killing of an innocent teen in the Bronx, and six other suspects are awaiting extradition after being arrested in New Jersey.
Kevin Alvarez is suspected in the vicious attack on Lesandro Guzman-Feliz outside of a bodega in the Tremont section, an act of violence left the entire community outraged.
WATCH: Bronx teen murder suspect jeered at police precinct:
Mourners lined up Monday outside of the Ortiz funeral home in the Bronx to pay their respects to the teen.
A growing memorial of candles and photos now sits outside the deli on East 183rd Street and Bathgate Avenue, a tribute to the 15-year-old affectionately known as Junior.
He was dragged out of the business and slashed in the neck with a machete. Lesandro tried to run to St. Barnabas Hospital just a block away, but police say he ended up collapsing on the sidewalk.
There is also outrage at workers in the bodega, because surveillance video of the attack shows that they did nothing to help him. The bodega has since shuttered because of the simmering anger.
"They broke my heart," mom Leandra Feliz said. "They killed my son, and they killed me at the same time...I feel death right now. That's the only thing that can bring me back to life, real life. I want my son with me."
Alvarez appeared in court Monday, was remanded and is due back in court on Friday.
(Photo courtesy New York Daily News)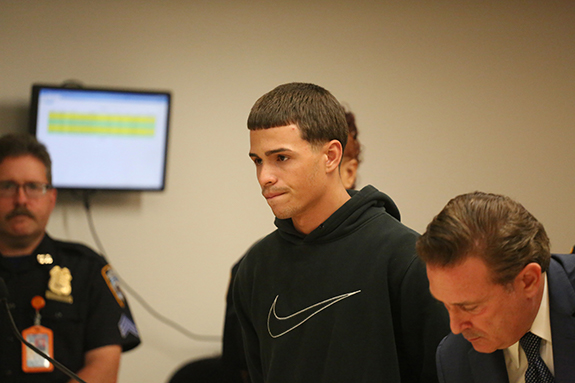 "We are working diligently to ensure that our client's constitutional rights are protected throughout this entire process," said defense attorney Manuel Portela.
Alvarez is charged with second-degree murder, manslaughter, gang assault and assault in what police believe was a case of mistaken identity.
"They have to make sure when they're going to kill somebody, they have to make sure that they have the right person," Leandra Feliz said. "Look what happened now."
Authorities in New Jersey say six other people have been taken into custody and will be extradited to New York City, pending extradition hearings. They were identified as:
--Jose Muniz, 21, of Paterson
--Jose Taverez, 21, of the Bronx
--Manuel Rivera, 18, of the Bronx
--Danel Fernandez, 21, of the Bronx
--Joniki Martinez, 24, of Freeport
--Santiago Rodriguez, 24, of the Bronx
They are currently being held on local charges. Police say they raided a house known as a hangout for the gang allegedly involved in the murder. Authorities say one of the suspects jumped out the window and had to be chased down. An eighth person was picked up in the Dominican Republic and is currently cooperating with the investigation, with no charges filed.
The NYPD says they have received a "torrent of tips," so many they had to add extra staff to the CrimeStoppers tip line.
The public is urged to continue to provide information, and anyone with information should call 1800-577-TIPS.