LOS ANGELES (KABC) -- Drought-stricken Southern California will see a bit of rainfall on Thursday - and possibly heavier amounts early next week.
Thursday will bring about a quarter-inch of rain to most communities throughout the region, beginning around noon.
A new, heavier storm system is around the corner, potentially bringing more than an inch of rain to some areas starting Monday.
Los Angeles and Orange counties on Thursday will see about a quarter-inch of rain, with a high temperature of 58 degrees.
The valleys and Inland Empire will see some rain with a high of 57.
Mountain areas could see 2-3 inches of snow at elevations over 7,000 feet, with a daytime high of 38 degrees, dropping to about 23 overnight.
Beaches on Thursday will see light rain with a high of 60.
Deserts on Thursday will see a high of 53, with about one-tenth of an inch of rain.
Get the latest updates on the weather with the Free ABC7 Los Angeles appDownload the ABC7 app for weather alerts: Click here for iOS devices | click here for Android devices.
If you have the app, turn on push notifications and personalize the app. Click on
My News
from the bottom menu, then star the topics you'd like to follow and tap Done.
Live radar: abc7.la/LiveMEGADOPPLER
Watches/Warnings: abc7.la/WxWarnings
Download the free Accuweather app for iPhone and Android devices.
Share your weather pictures and video with #ABC7Eyewitness
7-Day Forecasts
Los Angeles / Orange County Weather Forecast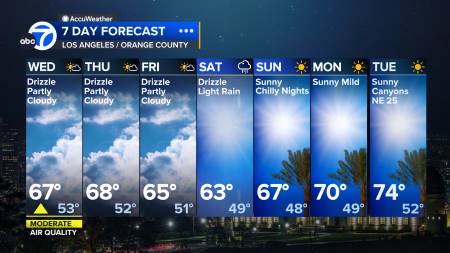 Valleys and Inland Empire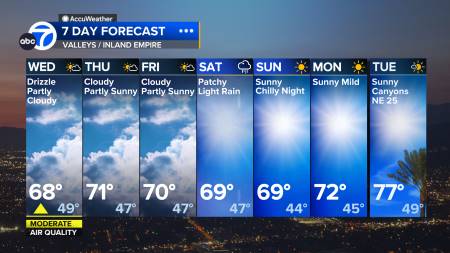 Beaches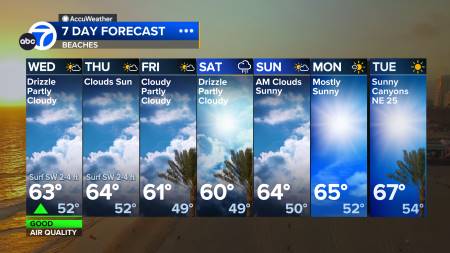 Mountains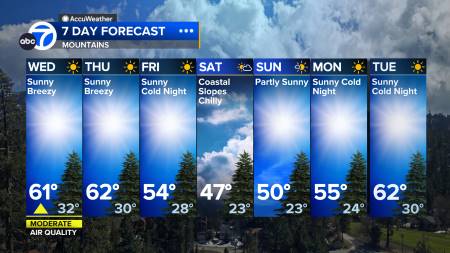 Deserts