LOS ANGELES (KABC) -- A wind advisory remains in effect until Wednesday at noon for parts of Southern California as another round of Santa Ana winds make their way toward the region.
Certain areas will see 35 to 45 mph wind gusts, and they'll start to pick up by Thursday.
Los Angeles and Orange counties Wednesday will start off with some warm gusty winds and will reach a high of 74 degrees for a sunny day. It'll be 47 at night.
The valleys and Inland Empire Sunday will also see morning winds that'll die down by Wednesday afternoon. The temperatures will reach a high of 73 and a low of 43.
Beaches will start to slowly warm up Wednesday with a high of 67 degrees. Similar conditions are on tap for Thursday for a mostly sunny day.
The winds will be stronger in the mountain communities with wind gusts expected through the next couple of days. The area will see a high 47 degrees and a low of 19.
Deserts can expect another day of gusty Santa Ana winds on Wednesday amid a high of 59 degrees.
Get the latest updates on the weather with the Free ABC7 Los Angeles appDownload the ABC7 app for weather alerts: Click here for iOS devices | click here for Android devices.
If you have the app, turn on push notifications and personalize the app. Click on
My News
from the bottom menu, then star the topics you'd like to follow and tap Done.
Live radar: abc7.la/LiveMEGADOPPLER
Watches/Warnings: abc7.la/WxWarnings
Download the free Accuweather app for iPhone and Android devices.
Share your weather pictures and video with #ABC7Eyewitness
7-Day Forecasts
Los Angeles / Orange County Weather Forecast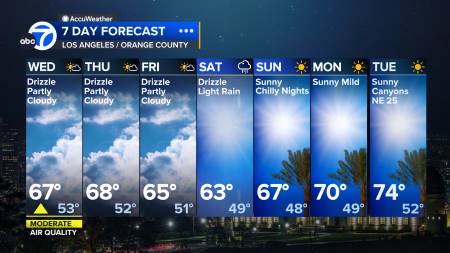 Valleys and Inland Empire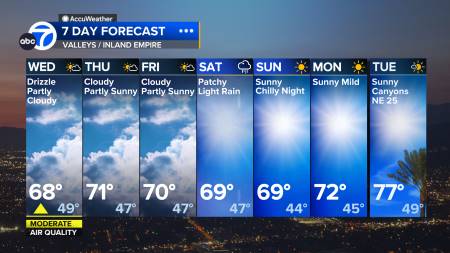 Beaches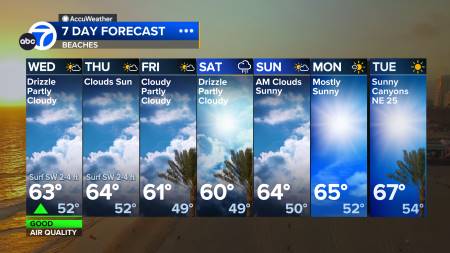 Mountains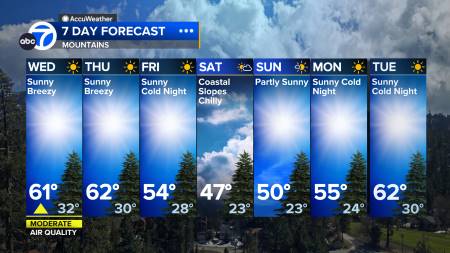 Deserts