LOS ANGELES (KABC) -- The heat is on in Southern California as high temperatures and heat advisories are expected to last until Wednesday.
After that, a cooling trend is going to move into the region, continuing into next weekend.
On Tuesday, Los Angeles and Orange counties will be under a heat warning and the region should see temperatures reaching about 92 degrees. Similar conditions are on tap for Wednesday.
The valleys and Inland Empire will be hot with a high of 103 on Tuesday and Wednesday.
Beaches on Tuesday will be sunny, with a high of 84 and 2-4 foot surf.
Mountain communities will be mostly sunny with a high of 79 during the day and drop to 49 at night. Similar conditions are on tap for Wednesday and Thursday with a slight chance of some showers.
Deserts will see temperatures hitting the triple digits on Tuesday, but they'll start to cool down by the weekend.
Get the latest updates on the weather with the Free ABC7 Los Angeles app
Download the ABC7 app for weather alerts: Click here for iOS devices | click here for Android devices. If you have the app, turn on push notifications and personalize the app. Click on My News from the bottom menu, then star the topics you'd like to follow and tap Done.
Live radar: abc7.la/LiveMEGADOPPLERWatches/Warnings: abc7.la/WxWarningsDownload the free Accuweather app for iPhone and Android devices.Share your weather pictures and video with #ABC7Eyewitness
7-Day Forecasts
Los Angeles / Orange County Weather Forecast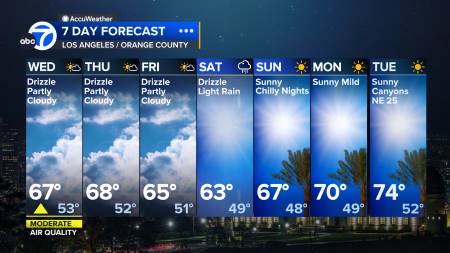 Valleys and Inland Empire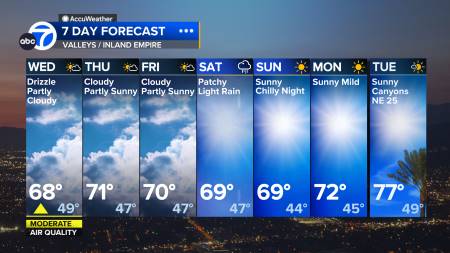 Beaches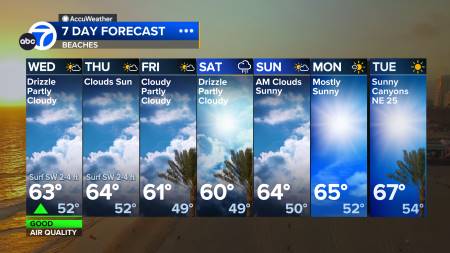 Mountains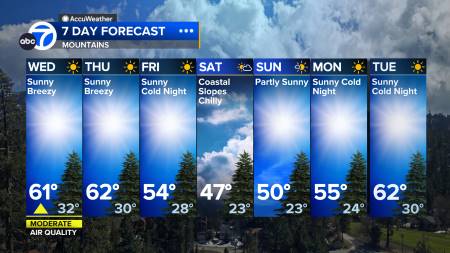 Deserts