LOS ANGELES (KABC) -- Temperatures will get slightly warmer in some parts of Southern California on Sunday, but chances of rain and snow in some areas are coming later this week.
Santa Ana winds will come in through Los Angeles and Orange counties on Sunday as temperatures will rise to 74 degrees, which is above seasonal average. If you're driving out in the early morning hours, expect to see some fog Sunday morning before it clears out.
The weather will get even cooler by mid-week with chances of rain on Thursday.
The valleys and Inland Empire on Saturday will see gusty winds blow through the canyons as temperatures jump to 78. Rain is also expected on Thursday and Friday.
Beaches during the weekend will be cloudy and temperatures will be in the 60s.
Mountain areas on Sunday will be sunny with a 60-degree day. Chances for rain and snow is expect on Thursday.
The deserts on Sunday will be sunny and temperatures will reach a high of 75. Similar conditions are on tap Monday.
Get the latest updates on the weather with the Free ABC7 Los Angeles appDownload the ABC7 app for weather alerts: Click here for iOS devices | click here for Android devices.
If you have the app, turn on push notifications and personalize the app. Click on
My News
from the bottom menu, then star the topics you'd like to follow and tap Done.
Live radar: abc7.la/LiveMEGADOPPLER
Watches/Warnings: abc7.la/WxWarnings
Download the free Accuweather app for iPhone and Android devices.
Share your weather pictures and video with #ABC7Eyewitness
7-Day Forecasts
Los Angeles / Orange County Weather Forecast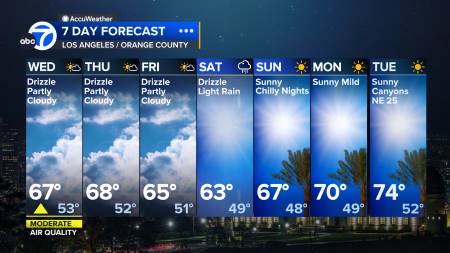 Valleys and Inland Empire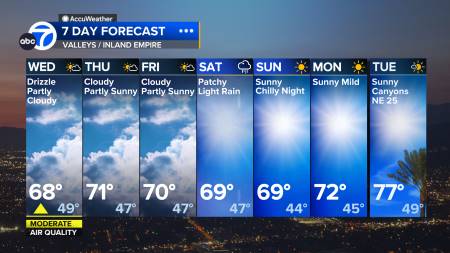 Beaches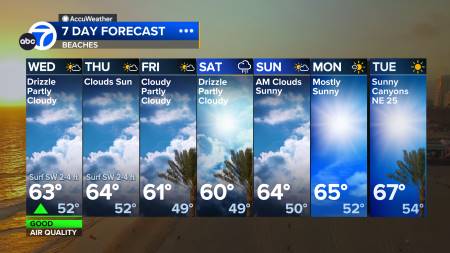 Mountains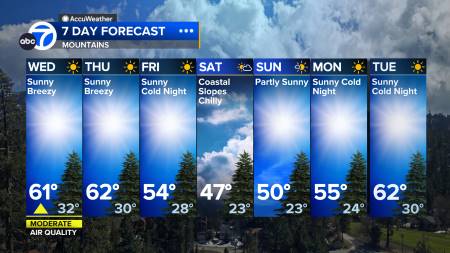 Deserts