LOS ANGELES (KABC) -- Southern California on Saturday will again see sunny skies and hot temperatures.
Conditions will remain relatively humid and thunderstorms are expected to return in deserts and mountains.
Los Angeles and Orange counties will be hot and sunny Saturday, reaching a high temperature of 89 degrees. Similar conditions are on tap Sunday.
The valleys and Inland Empire will hit a high of 101 on Saturday. The hot temperatures continue Sunday when a high of 101 is also expected.
Beaches on Saturday will be warm, with temperatures hitting 80 degrees and surf from hurricane swells in the 2-5 foot range.
Mountains will be sunny with a high of 78 on Saturday, with a 40% chance of thunderstorms. On Sunday, the chance of thunderstorms drops to 20%.
Deserts will hit 102 on Saturday with a chance of flash flooding in the afternoon. The region will remain hot Sunday, and there will be a 20% chance of thunderstorms.
Get the latest updates on the weather with the Free ABC7 Los Angeles app
Download the ABC7 app for weather alerts: Click here for iOS devices | click here for Android devices. If you have the app, turn on push notifications and personalize the app. Click on My News from the bottom menu, then star the topics you'd like to follow and tap Done.
Live radar: abc7.la/LiveMEGADOPPLERWatches/Warnings: abc7.la/WxWarningsDownload the free Accuweather app for iPhone and Android devices.Share your weather pictures and video with #ABC7Eyewitness
7-Day Forecasts
Los Angeles / Orange County Weather Forecast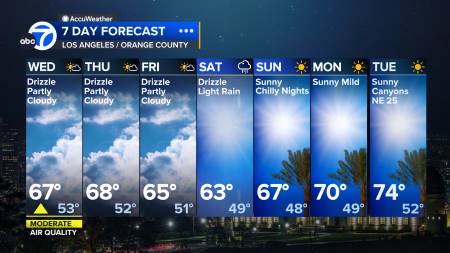 Valleys and Inland Empire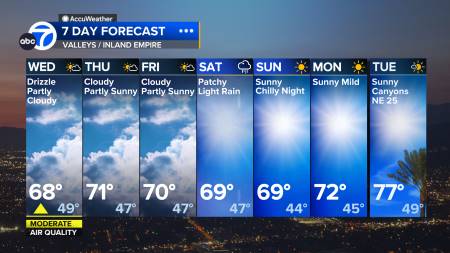 Beaches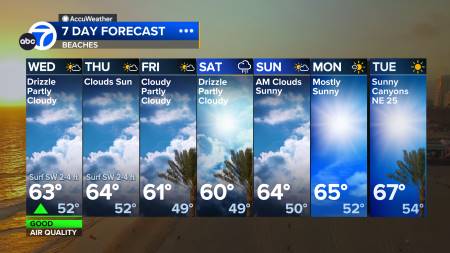 Mountains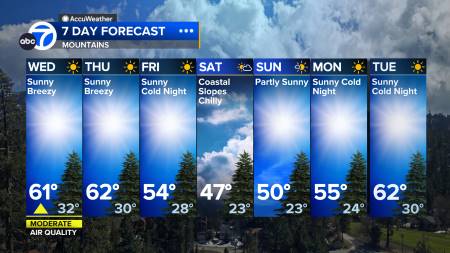 Deserts