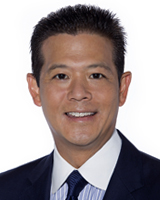 Rob Fukuzaki is the weekday sports anchor for ABC7 Eyewitness News, as well as host of post-game show Sports Zone. When Rob joined ABC7 in 1994, he became the first male Japanese-American TV anchor in Los Angeles local TV News.

Rob was born on July 4th in Torrance, California but was raised in Honolulu, Hawaii, where his family relocated when he was 3 years old.

Rob attended Mid-Pacific Institute, a private high school in Honolulu, and graduated in 1984. He attended the University of La Verne in Southern California and earned a B.A. in Broadcast Journalism with an emphasis in radio and television in 1988. While at La Verne, Rob was chosen the university's Broadcaster of the Year in 1986, 1987 and 1988. He also won several awards from the Southern California Broadcast Journalism Society.

Rob worked for the Top 40 radio station KXPW in Hawaii. In 1989, Rob began working part-time for KITV in Honolulu doing sports reporting. He eventually got a full-time slot in late 1989, working as the station's weekday sports reporter and weekend anchor. One of his more memorable assignments at KITV was an award-winning hour-long special on Sumo in Japan. The broadcast featured the three top-ranked wrestlers from Hawaii, including Grand Champion Akebono and Grand Champion Musashimaru.

Since joining ABC7, Rob has done a great deal of work for the community, hosting charity events and emceeing benefit dinners. In 1997, Rob - along with his friends and family - founded the Heads Up Youth Foundation, of which Rob is the chairman. The goal of the foundation is to assist disadvantaged youths in the Southland through sports programs.

Rob's interests include music and singing, and he often uses that passion in his work. He has written and recorded tributes for legendary Dodgers manager Tommy Lasorda and former Dodgers star Raul Mondesi.

Contact:

ABC7 Broadcast Center
Attn: Rob Fukuzaki
500 Circle Seven Drive
Glendale, CA 91201
818-863-7777
---
Archive
Los Angeles Lakers legend Kareem Abdul-Jabbar is recovering after undergoing quadruple coronary bypass surgery at Ronald Reagan UCLA Medical Center.
NBA player Jeremy Lin challenged his followers to post their own dunk cam videos. Watch ABC7 Reporter Rob Fukuzaki's entry.
NYC Sports Anchor Rob Powers made a Stanley Cup bet with LA Sports Anchor Rob Fukuzaki, and lost. Watch how he paid up.